The Sacrament of Holy Matrimony
On the third day there was a wedding at Cana in Galilee, and the mother of Jesus was there. Jesus also was invited to the wedding with his disciples. When the wine ran out, the mother of Jesus said to him, "They have no wine." And Jesus said to her, "Woman, what does this have to do with me? My hour has not yet come." His mother said to the servants, "Do whatever he tells you."
John 2: 1-11
You are getting married! Congratulations!
For any couple, the decision to marry is a life-changing step.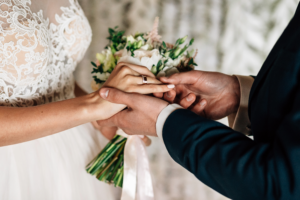 The Sacrament of Marriage is a lasting commitment of a man and a woman to a lifelong partnership, established for the good of each other and the procreation of their children.
The Old Testament states that man was made in the image and likeness of God, and that man and woman were made for each other and through marriage, they become one. The Church teaches that since God created man out of love, and calls on him to love, it is proper that the union of man and woman should be a Sacrament. The love of man and woman mirrors the love of God and their children are part of God's creation
Marriage is different to most of the Sacraments which are conferred by a priest, or bishop. The man and woman confer the Sacrament of Marriage upon each other when they express their consent to marry before God and the Church. As a Sacrament, Marriage is part of the Church's liturgy. Jesus taught that marriage is indissoluble: "Therefore, what God has joined together, no human being must separate" (Matthew 19:6). Through the sacrament of Matrimony, the Church teaches that Jesus gives the strength and grace to live the real meaning of marriage. In the writings of St Paul: "Husbands, love your wives, even as Christ loved the church and handed himself over for her to sanctify her" (Ephesians 5:25–26).
Couples planning to marry at Saint Patrick's Church are invited to make an appointment to see the parish priest at least six months before the proposed wedding date in order to complete the necessary administration. They will also attend a course of Marriage Preparation, focusing on their relationship and their hopes, a Catholic understanding of the Sacrament of Matrimony and a deeper awareness of their future, life-long, commitment.
Sometimes people who have not been to Church for a while can be apprehensive about approaching the Church for a wedding.
Since marriage can be a time of rediscovering one's faith and making a new start, you should not hesitate to discuss your situation with the priest.