Preparing to receive Reconciliation and the Eucharist for the first time can be one of the most memorable experiences parents share with their children in the Church. It is an important annual celebration in the life of our Parish community.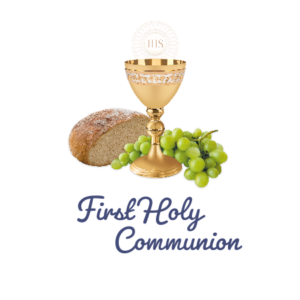 Prior to enrolling on the First Communion programme, it is important that the family attend Mass each Sunday so that the child understands the Mass and experiences the presence of Christ in the liturgy. As with any deep friendship, it is important that we truly know and encounter a person, not simply know about them through our taught sessions. Coming to Mass each week is as important and necessary as our teaching sessions. Parents/Guardians/Godparents took on a role at their child's baptism to bring them up the practise of the Faith and that role extends into the preparation for your child's First Holy Communion alongside your Parish Priest and our team of catechists from both parishes.
Families who regularly come to Mass at Saint Mary's and Saint Patrick's Church are invited to enrol their children for the parish preparation for Reconciliation/Eucharist when they are in Year 3 or above.
Before they can receive their First Holy Communion children must be:
baptised (a certificate is required),
capable of understanding the fact that they are receiving, not ordinary food, but the Body and Blood of Christ,
and ready to receive the Sacrament with reverence.
St Mary's & St Patrick's First Holy Communion Preparation 2024
This year we are once again running a joint St Patrick's/ St Mary's programme of preparation as Churches in Communion for Mission within the Parishes.
Registering your child for First Holy Communion in 2024
When registering their child for First Holy Communion parents are making a commitment to:
Participate in parent preparation sessions.
Participate in Saturday Vigil/Sunday each week in our Parishes.
Support their child's participation in the First Holy Communion classes.
Parents wishing to register their child to receive First Holy Communion in 2024 are invited to sign up using the form below.  Parents who are not registered members of St Marys or St Patricks parishes will be invited to register as members of their parish as a condition for their child attending the preparation programme and receiving First Holy Communion. The date of the First Holy Communion will be set after registration and the venue and dates of the preparation classes will be announced.
Thank you.