Peter said to them, "Repent and be baptised, every one of you, in the name of Jesus Christ for the forgiveness of your sins; and you will receive the gift of the holy Spirit. For the promise is made to you and to your children and to all those far off, whomever the Lord our God will call." Acts of the Apostles 2:38-39
Congratulations on the birth of your child.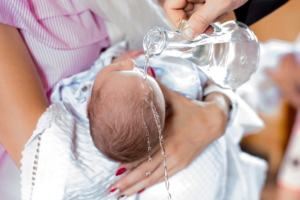 Baptism is the beginning of our life of faith, the beginning of getting to know and understand what being loved by God means. Baptism is God's gift to us of his great love. Our faith carries us forward to the Sacraments, but when we are babies it is the faith of our parents which brings us to the Sacrament of Baptism.
We would love to baptise you or your child. The first thing to do is contact the parish priest. Come along to the Sunday Mass and have a chat with him afterwards. Come and meet the community into which your child will be baptised. In general, you will need to be living within our parish and attend our Sunday mass regularly to receive the sacrament at St Mary's or St Patrick's. There is a short course of baptismal preparation for parents. Baptisms are usually celebrated during a Sunday Mass or a Weekday Mass. Baptisms are not normally celebrated during the Season of Lent, awaiting the baptismal Season of Easter.
Godparents.
Each infant or young child who is to be baptised has at least one godparent. Customarily, an infant or a young child who is baptised has both a godmother and a godfather. A godparent must be at least sixteen years of age; must be a Catholic who is confirmed and has received First Communion; a person who lives a life in harmony with the Catholic faith and intends to carry out the role of godparent.
We look forward to seeing you and your child at Mass on Sunday, where you will receive a very warm welcome!